INTRODUCING Driven Strength and Fitness
Meet the fitness experts ready to help you achieve your fitness goals at our gym.
ABOUT Driven Strength and Fitness
Our gym team of fitness and nutrition professionals are invested in your health. We make every decision with our members' well-being in mind. Achieve your goals with us!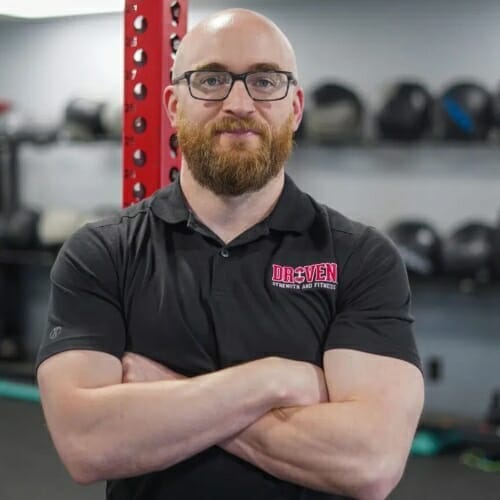 CEO &
Operating Owner
Rory Fitzpatrick
Why I started Driven Strength and Fitness? Growing up I was involved in track, football, and wrestling. Early in my high school I was introduced to strength and conditioning and saw how it transformed my body, confidence, and performance.
What was my hobby quickly became my passion which then became my purpose. In 2017 I founded Driven Strength and Fitness here in Exton, PA. My purpose was now to give to others what strength and conditioning has given me. Our Vision Driven Strength and Fitness strives to impact the community and people who live there. To achieve this we want to make a positive impact on our clients to increase their physical and mental well-being. Our Mission: Our coaching service improves athletic performance, health and fitness, and aims to meet all of our clients' individual goals. We use top-notch training techniques with the most current evidence-based methods to improve these markers.
Head Coach and Precision Level 1 Nutrition Coach
John
John is the Head Coach of Training and Nutrition here at Driven Strength and Fitness. John graduated from Temple University with a degree in Exercise and Sport Science. During his time at Temple, John played Ice Hockey and completed his internship in the Olympic Sports strength room.
John holds his CSCS, CPR & AED, and his Precision Nutrition Level 1 certification. John has been working here at Driven since 2018 where he has worked closely with our Downingtown Boys Lacrosse team and our adult groups. In his free time, John enjoys surfing, skateboarding, collecting sea glass with his wife at the beach and when he is not doing those things, you can catch him at the ice rink with his son helping him with his athletic endeavors.
Level 2 Performance Coach & Personal Trainer
Andrew
Andrew graduated from West Chester University in 2020 with a degree in Exercise Science, with a focus on strength and conditioning coaching, and a minor in athletic coaching. Andrew holds his NSCA-CPT and a First Aid, CPR and AED certified through the Red Cross.
Andrew has been coaching athletes for 4 years, previously coaching for the West Chester University football team, and with adults for a year, previously working as a personal trainer at the West Chester Area YMCA. In his free time, Andrew enjoys working out, reading, nerding out to Marvel and Star Wars movies, and spending time with his girlfriend, Shannon, and friends out in West Chester. He is also passionate about all sports, but especially loves football!
Level 2 Performance Coach & Personal Trainer
Grace
Grace graduated from Towson University in 2019 with a degree in Chemistry. She is a Certified Personal Trainer through the National Academy of Sports Medicine (NASM) and is CPR and First Aid Certified through Red Cross.
Grace has been training adults in a group fitness high-intensity interval style workout for the past two years. She is excited to expand her skill set by working with athletes on Strength and Conditioning here at Driven. In her free time, Grace enjoys traveling both within the United States and abroad, skiing in the winter, hiking in the summer, and reading crime/mystery books!
Client Success
Manager
Astrid
Astrid has been recognized for her work in customer service and client success
Marketing and Client Relations Intern
Becca
Becca is a dedicated student at West Chester University, where she is pursuing a major in Marketing with a minor in Digital Marketing.
Her passion for the dynamic field of marketing has ignited a desire for real-world experience and an eagerness to build valuable client relationships. Working at Driven, she is excited to start on a journey of learning, growth, and skill development. Her ultimate aspiration is to secure a role within the marketing department of a prominent sports team.
Beyond her academic and career pursuits, Becca revels in her free time by hanging out with her friends, exploring nature preserves, and sharing joyful moments with her beloved dogs!
Performance Coach
Ernie
Ernie graduated from Penn State University in May 2022. He majored in Kinesiology with a focus in Applied Exercise Health.
He is currently pursuing his certification as a Certified Strength and Conditioning Specialist (CSCS). He currently holds a certification as a Functional Movement Specialist (FMS) level 1 and has his CPR/AED certification.
Ernie completed an internship his senior year at a local gym, Victory Sports and Fitness, in State College. He had the opportunity to engage in coaching athletes from high school to the collegiate level as well as the general population. He is excited to take his career to the next level here at Driven.
In his free time, Ernie enjoys to workout, be outdoors, and spend time with family and friends. His favorite vacation spot is his family cabin in Potter County where he enjoys hunting, fishing, and riding his dirt bike.
Book a Free Consult at Driven Strength and Fitness today. Chat with a coach to learn more about how we can help you reach your goals.